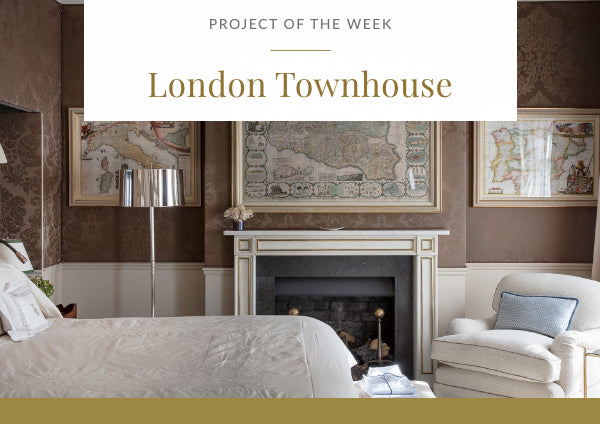 in Blog
Project of the week - A London Townhouse
This is the London home of the same Italian family for whom Nina Campbell also designed an apartment in Rome.
A comparison of the two demonstrates her extraordinary versatility; while the family's elegant home in Knightsbridge has all the hallmarks of a London townhouse it also reflects the heritage of its owners with subtle touches such as tassled pendant lights, collections of Venetian glass, Italian fabrics as well as antique wall hangings. This ability to weave different influences together in order to create a coherent whole is best displayed in the master bedroom where Italian maps and contemporary lighting sit against a backdrop of walls that have been lined with a sumptuous damask weave.
Guests are greeted at the front door by Italian strung curtains in Nina's own velvet that lead to a bar area furnished with a mix of bespoke furniture. In the dining room more bespoke designs open to reveal splashes of rich colour within. At every turn there are details that enrich the look and feel of a scheme; braid, contrast piping, fringing and trimmed rush mats combine to lend layer upon layer of interest. In the drawing room, a mix of exquisite 19th century furniture, walls in deep navy, lofty bookcases and an antique mirror create a look that this could only be a classic London townhouse.
We look forward to sharing more with you.
We're excited to share more of this new series with you, stay tuned for next week's project.
Take care,
The Nina Campbell Team