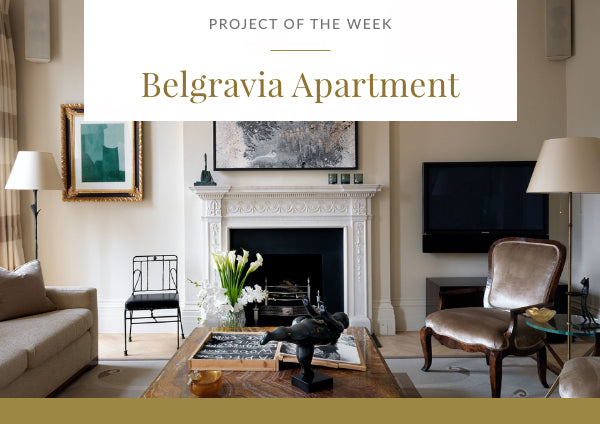 in Blog
Project of the week - A Belgravia Apartment
This is another project that demonstrates Nina Campbell's extraordinary versatility. The clients have many passions – for music, good food and wine but most of all for contemporary art. Their brief was for a light, airy space that would complement their extensive collection of paintings and sculpture. Like so many London buildings it had been very clumsily converted in the 1970's; ceilings had been lowered and doorways narrowed, compromising the elegant proportions of this first floor apartment.
The brief was also that it should be completely neutral, something of a new departure for Nina and one that she very much took in her stride. Her response was to source furniture and textiles that had plenty of texture; as well as richly woven fabrics and a magnificent bespoke rug. Much of the furniture has finishes and textures that add depth to the scheme.
The look of the apartment takes its inspiration from the glamour of the 1930's; Art Deco style cabinets in a shagreen finish and simple thirties-inspired furniture complement the clients' collection of bronzes and art that date from the early part of the twentieth century. In the drawing room is a pair of sofas by the Parisian designer Christian Liagre that captures the mood perfectly. The result is pure Nina Campbell; a beautiful easy mix of styles that combine to fit the brief perfectly.
We look forward to sharing more with you.
We're excited to share more of this new series with you, stay tuned for next week's project.
Take care,
The Nina Campbell Team