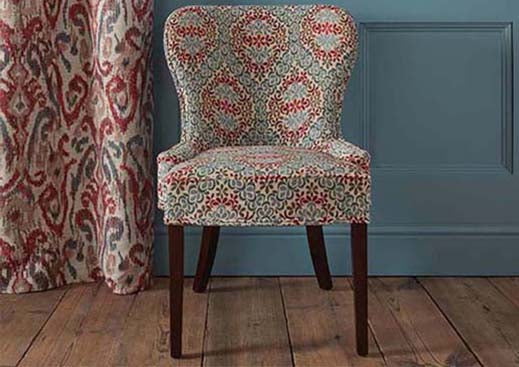 in Blog
Our new 2021 Fabric Collections
We are working on getting the new collection updated to our website asap. In the meantime please see the below about the different collections, how to order samples and how to place an order.
Parvani
Nina Campbell celebrates her love of Indienne textiles. The PARVANI collection of decorative prints and embroideries is infused with characteristic features such as stylised florals with undulating stems and hand-block printed motifs.
The designs are presented in Nina's signature palette along with fresh new colour combinations.
Co-ordinating velvets and weaves are to be found in BARODA and LARKANA
Baroda
A collection of opulent and decorative woven designs takes inspiration from textiles of the ancient silk route.
These richly coloured fabrics combine well with the prints and embroideries across all the new collections.
Larkana
A versatile collection of small-scale weave designs for upholstery. They provide the perfect complement to the decorative patterns to PARVANI and BARODA collections. The elegant palette includes orange, teal, aqua, coral, sage and indigo as well as useful neutral tones such as linen and dove.
How to see the full collection 
Please visit the Osborne and Little website to view the full collections
How to order a sample 
Please email us on website@ninacampbell.com to request a sample. Please detail the name of the fabric and the colour-way.
You can order up to 5 free samples.
How to place an order 
If you would like to order, please email us on website@ninacampbell.com for a quote.
Please detail the name of the fabric, the colour-way and the amount you would like to order.