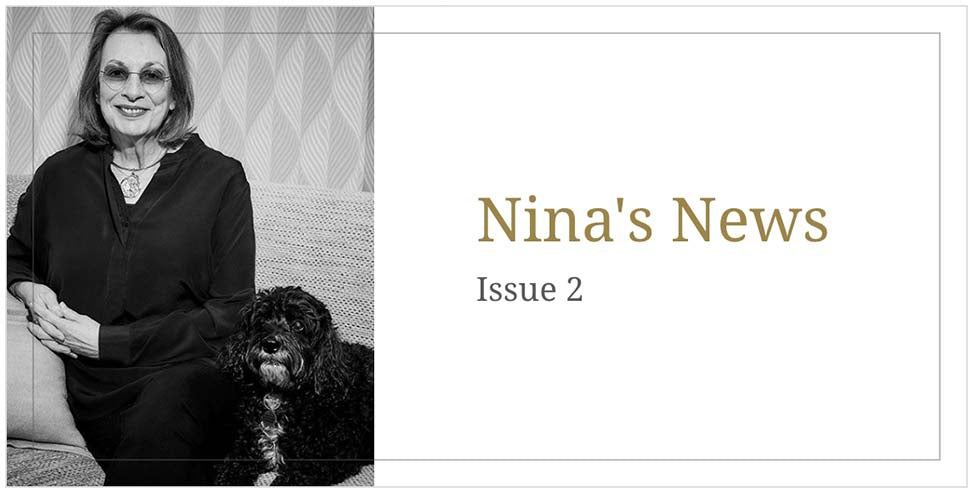 in Blog
Nina News Issue 2
The Entertainment Edition
Welcome to your bi-weekly blog where we hope to keep you entertained, engaged and informed with our latest news, recommendations, tips and tricks.
With the announcements this week we have something to look forward to. In the meantime,  I hope to give you some tips to entertain yourself in the house a little bit longer! This week my special guest is Nina Millar from @been.reading with some wonderful book recommendations.
I will also be sharing one of my media room projects, some suggestions for life after lockdown and my TV box set top tip. Additionally, we have some more wonderfully delicious Great Taste recommendations, including a TV supper recipe and my product of the week Alder Tree. 
Nina's Special Guest
Nina Millar from @been.reading
Welcome, Nina, to our 2nd newsletter. I love the fact that we have another Nina, especially one who I feel personally connected to, through your Mama, my long time friend.  It is such a great idea to have a book club, without having to go, and even when we can't go, to our book club dinners, it is a great source of inspiration. I love the suggestions, some I have already read, others I will be reading, but I also love the suggestions for children, and the descriptions, so useful!
A Foreword from Nina Millar
I have always loved recommending books to my friends when they have asked for some ideas (and more often when they haven't!). I set up @been.reading during lockdown as a way to share those ideas; in times of stress and confinement, there is nothing better than escaping to different worlds in a wonderful book. I've now joined a huge community of fellow bookstagrammers - a lovely positive group who, like me, just want to share the book love.
My recommendations are mainly fiction but I also include the non-fiction books my husband enjoys, plus the books my children have adored.  Hopefully something for everyone.
My top favourite of last year was Maggie O'Farrell's Hamnet.  Winner of the Women's Prize for Fiction 2020, it is an exquisitely written reimagining of the brief life of Shakespeare's son.  A tender exploration of family and grief, it is absolutely superb.
I also loved Diane Setterfield's Once Upon a River.  Another beautifully written tale this time set in along the Victorian Thames, Setterfield creates wonderful characters all entwined in a mystery that twists and unfurls just like the river itself.
For more of Nina's recommendations, follow Nina on Instagram @been.reading
Recipe of the week
TV Supper - Feta Pasta
TV Suppers don't have to be balancing a plate on your lap and taste like warmed up leftovers. They can be utterly delicious, with ingredients from your local farm shop and served on a Nina Campbell tray with our linen, china and glassware.
Great Taste judge, presenter & cook Lotte Duncan demonstrates how easy it is to put together a quick TV supper with this easy feta pasta recipe.
The key to a delicious recipe is using the best possible ingredients and the Great Taste logo can help you find these when out shopping. This recipe uses four Great Taste award-winners from 2020, but if you can't find these, look for the best possible substitute.
Ingredients 
450g baby plum tomatoes
1 block of Greek Epiros Feta cheese (2020 3-stars)
1 tablespoons capers
50g Odysea Kalamata olives (2020 1-star)
3 or 4 Yurrita Anchovies (2020 2-stars)
2 tsp dried Oregano
4 cloves garlic - sliced
a bunch of fresh basil
Salt and pepper
Method 
Watch how quick and easy it is to make
Shop the Look
View our luxury trays here
View our china here
View our linen here
View our glassware here
Nina's Top Tip - The Queens Gambit
Recently I have been watching The Queens Gambit on Netflix.
I think it is beautifully shot and I love all the nods to home decoration in the 1950's and  60's. I think you will all love it and if you have not watched it already, give it a go.
Nina's Project of the Week
London Media Room
This screening room was part of a interior design project I completed in Belgravia, London.
The wraparound sofa makes up most of the available space and I love the art deco sconces, mounted on mirror panels to evoke the glamour of bygone cinema palaces.
Although we cant all be lucky enough to have a screening room in our house, you can see my TV box set recommendation above to enjoy anywhere in your home.
If you want to view this project in full it features in my book Nina Campbell Interior Design and Decoration, along with many other of my decoration projects.
To purchase this book, you can click here.
Nina's Product of the Week
Alder Tree - fruit cream ices
We need a treat every now and again. Another wonderful Great Taste winner, Alder Tree is made from real fruit and British cream. I love supporting local and anything British made, so this ticks every box for me and is simply scrummy. 
To see if this beautiful product is stocked anywhere near you, click here 
More about Great Taste
Don't take John's word for it, click here to watch a video which explains more about what Great Taste is all about.
If you would like to discover more Great Taste winners, click here and read the latest issue of Great Taste Book online.
Life After Lockdown
As announced this week, we will soon be allowed to meet others outside.
This is a long time coming for many of us and I am excited to have something to look forward to.  Why not get your outdoor living space a bit of a revamp with our  oomph outdoors collection.
You can email furniture@ninacampbell.com or give our furniture department a call us on 020 7225 1011 for more information.
I will be celebrating on this day with a big glass of champagne in our wonderful champagne flutes.
I am obsessed with amethyst glassware and have a whole cupboard dedicated to it in my house!
Goodbye from me...
All that's left to say is a goodbye from me. We had some lovely feedback from the first edition, so I hope you enjoyed this just as much. 
Stay safe everyone. Here's to better and brighter days to come. Love Nina xx