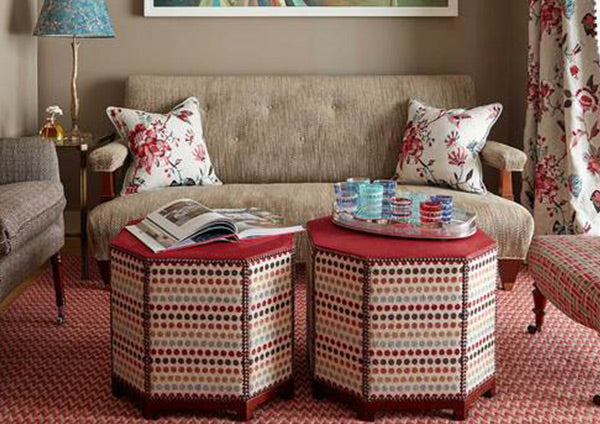 Nina has transformed her showroom at The Design Centre Chelsea Harbour into 'Nina's Apartment' just in time for Design Week . This is the first time for us to be marrying Nina's exquisite and extensive interiors expertise with one of our retail spaces.
The apartment encompasses Nina's true design essence of classic with a contemporary twist with a rich tapestry of colour, pattern and texture combined to create three different spaces; Entrance Hall, Drawing Room, Bedroom & Bathroom
Greeting you from the entrance hall is a new piece by oomph, an eye-catching Easton Secretary Desk in Fawn Brindle with a Bolero red interior is a unique take on a classic secretary desk.
Two tone lacquer, tassel details, and elegant hardware, all together make this an elegant desk. The front facing door locks with a tasseled key and opens on hinges to reveal a beautiful work space, complete with built in shelves. We have chosen a vibrant interior to really make a statement.
The simple but striking entrance hall leads to a classic Nina Campbell drawing room with an elegant colour palette of rich red with pops of navy and paler blues to give it a more 'city' look.
Here, The Hector Stool will find its new home… a piece inspired by an antique stool Nina used in a client's house that she felt was missing in her own furniture collection. Hector is a hexagonal upholstered stool on a wooden base with bronze studded detail around the top. This stool is ideal in a narrower room or somewhere you don't want to commit to a coffee table but would like something to place some books or a drink on or use as additional seating when needed. They also work very well in pairs.
Other favourites from Nina's bespoke British made furniture collection will be on show in here such as the Beaufort Sofa, Alice Chair and both the Hastings and Elizabeth Barrett Browning armchairs, all upholstered using Nina's clever and quirky colour combinations, different trimmings piping's and other little details that have become signature for Nina.
Lastly, the bedroom and bathroom is a haven of fresh greens/aqua's and whites with the Charleston headboard in Natural Raffia rattan headboard by oomph giving it a more contemporary feel. A Nina favourite the Joan dressing table will return here in the bedroom too.
When you step through to the bathroom you will come across the newest oomph piece, the Capri Vanity in Parakeet. These exquisite bases are effortlessly elegant, and truly unique. Designed with an architect's eye, the vanities are both chic and functional.
Nina adored this scalloped vanity unit in green with a white marble top and basin and taps by Waterworks, softening the bathroom somewhat with a painted unit whilst still creating a real wow-factor.
Sitting beside the vanity is our newest member of the chair family the George Chair, this is our first fully circular chair with white lacquered back, legs and frame. The upholstered round back cushion has two tassels hanging on to add glamour to this classic chair with a difference.
Nina wanted to create a space where her loyal customers could come and relax and enjoy the furniture, wallpaper, fabrics and trimmings in an environment that felt like they were stepping in to Nina's own home. Wanting to give a bit more of an experience to people coming to see us rather than another showroom with everything lined up. This will, we hope, fully immerse our clients in the whole Nina Campbell experience and therefore inspire people with idea's for their own homes and projects.